One critique that has come up over the first 18 games of the season for the Angels is Scioscia's lineup shuffles. Thus far, the Angels have rolled out 16 different lineups in 18 games. That seems like a lot. However, from a more practical viewpoint, it makes, at least, some sense. The Angels have logjams all over the place. A brief look at their 25-man roster reveals at least five to six players who could viably start in the outfield, three third basemen and three to five players to fill the DH role. They have five players have hit 20 or more home runs in a season.
Judging from comments from fans throughout the web seem to be rather obsessed about the Mike Scioscia lineup shuffle and are convinced that it is, at least partially, part of the Angels early season woes. Reoccuring complaints seem to want Wells out of the lineup, Trumbo hitting cleanup everyday, and Angels prospect Mike Trout called up from Triple A to bat lead-off.
There's a lot about baseball that is ingrained and taken for granted. The common lineup construction includes a speedy leadoff hitter with a decent OBP. The power hitters hit three thru five and the worst hitters hit 8th and 9th. Like most things in baseball, though, these common ideas have been challenged and the question arises: does a batting lineup for a baseball team even matter?
To put it simply: yes, but barely. Statistically, there has been a lot of studies and exploration out there into this question (See
here
,
here
,
here
and
here
to start). The general consensus is that the difference between an "optimized" lineup (arranged in order that through rigorous sabermetrics research would yield a team the most runs) opposed to the least efficient lineup (like letting the pitcher hit cleanup) is 5-15 runs over an entire season. The "stat-heads" have determined that this averages out to about 1 more win a season. What has been determined, for the most part, is that three best hitters should bat first, second and fourth. Even then, failing to do so would likely only cost a team 1 win a season.
Still, one win can mean something when it's all said and done. It certainly would have helped the Boston Red Sox last year make it to the playoffs. And as Matt Klaassen
points out
, "wins are wins, and money is money. Teams talk big about doing "whatever it takes." As the league gets smarter, it gets more difficult to find the new market inefficiency, the Extra 2%, as it were." So optimizing that lineup and spending the extra money to get a player to give you as little as one more run a year, could potentially make a difference. Is the batting order that a manager trots out worth getting worked up over, though? Probably not.
What does matter, clearly, is what players are in that lineup opposed to who is riding the pine. This is something that Scioscia seems to be struggling with deciding and probably more deserving of a fan's ire.
Next week we will use use 2012 PECOTA projections and a method devised by Cyril Morong via
Beyond the Boxscore
to try and construct the "optimal" Angels lineup.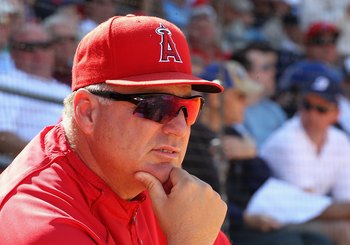 Probably not thinking about the lineup.